One of the best American road trips we did was our family roadie starting in Nashville to Memphis, ending in New Orleans!
So I wrote this self drive itinerary for a 10-day road trip that you can follow if you'd like…
Mum, dad, my husband and me on the road. We called it the Music Tour and spent 10 nights in total with a playlist that included Willie Nelson warbling "on the road again" as we hurtled down the freeways to meet my brother, his wife and daughter from the Cayman Islands (where they live) for a reunion in New Orleans.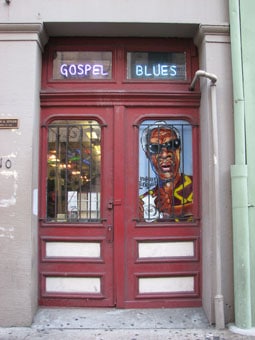 Day 1 : Nashville
Where to stay in Nashville : Loews Vanderbilt Hotel
(For the best rates at the Loews, visit their listing on Booking.com>>)
Our 8pm departure from LAX to Nashville had us flying through the night (although we were still on Hawaii time so it wasn't too bad) and arriving at 5.30am local time. Yes in the morning! That was bad. I had cleverly thought to book a room for the night before so we had at least one to check into when we arrived. As it happened both rooms were ready so we decided to have a short nap and shower then we were off to Honky Tonk Row to check out Nashville's famous music scene and find something to eat.
I really loved Nashville! I was so surprised by the amazing music scene with live music everywhere. Yes it's very "country" but you'll find other venues doing your favourite genre and girls in sundresses and cowboy boots walking everywhere added the colour and fun to this city. Them, and the hilarious booze trolly bicycle…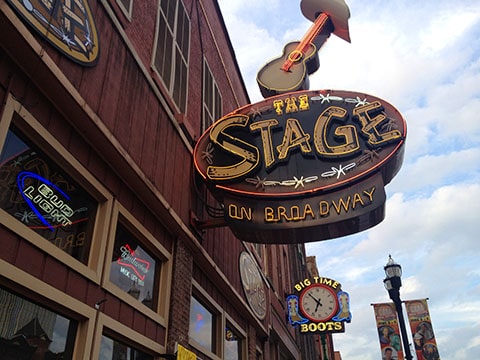 What to see and do in Nashville
The Johnny Cash Museum had opened the day before we arrived and people had lined up round the block. Fortunately the hype had died down today and we strode right in (buying some souvenirs on the way). This is a huge collection of Johnny memorabilia. Photos, outfits, hand written lyrics, his collection of framed gold and platinum albums, interactive sound and visual booths. It really is a must for Cash fans.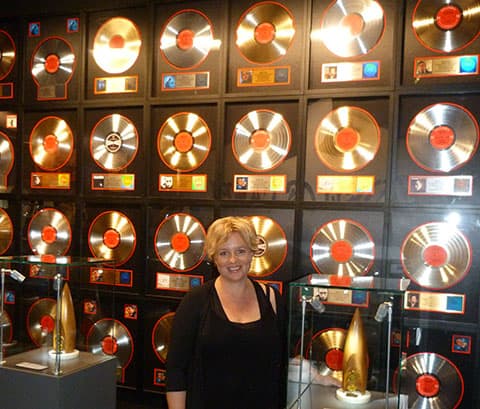 The jetlag hadn't yet kicked in so as my dad is a fan of piano bars, and dueling pianos even more so, we pottered around the many bars with live music and in and out of souvenir shops until 6pm when the dueling doors opened.
It was ridiculously early I know, but we were a bit knackered. The crowd was small at this early hour at The Big Bang but the sound was huge. The entertainers were brilliant: young guys in T-shirts and jeans bashing out hits on their grand pianos with the lids open! We were encouraged to write song choices on a piece of paper and give it to them. If they liked it they'd screw it up and toss it to the other piano. I chose this one: Billy Joel's Piano Man which started with one of the incredibly talented players on a harmonica was my hit of the night. <<click to see my video
Day 2 : Country Music Hall of Fame, Studio B and Loveless Cafe
I was surprised to find how many great musicians have their roots in country music – and The Country Music Hall of Fame is filled with memorabilia including Elvis Presley's very cool car that is fitted with a huge TV and old fashioned telephone. We added a tour to Studio B only because someone at the Johnny Cash Museum said it was great, and so it was. A must-see. I sat on the piano stool where Elvis recorded about half his catalogue of hits and learned how he was all about lighting and ambience when he recorded and for one song even had his musicians playing in the dark. Then the guide turned the lights red and told us what Elvis had recorded under the sexy red lights and played the actual recording.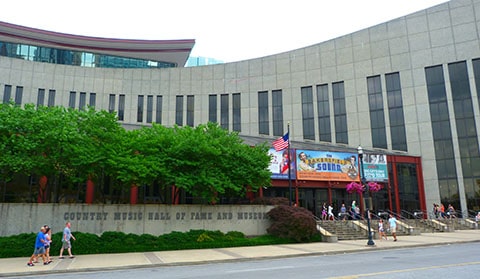 Where to eat in Nashville
There are lots of trendy, modern restaurants in Nashville, but this was our first time here so we were all about grits and biscuits and fried chicken and barbecue and all mid-west America!
Loveless Cafe is about 25 minutes drive (17 miles) from downtown Nashville through beautiful countryside and huge houses with rolling front lawns. They've been open since 1951 and have a huge reputation for their smoked hams and bacon (made on site) and serve a mean weekend brunch – including grits. We'd been recommended by nearly everyone we met to come out here, so as we had a car and were always up for a good nosey at how other people live, we set off. Couldn't get my dad to try the grits though! But the fried chicken and mac and cheese and juicy smoked meats were winners.
Puckett's Grocery and Restaurant is another institution. They serve traditional Southern food like Loveless Cafe, but are located in the heart of town so easy to get to. They also sell their jars as glasses (yes I managed to squeeze one home) and other kitchen wares.
Day 3 : Drive Nashville to Memphis
It's about three hours drive from Nashville to Memphis – (driving distance 212 miles). Drivers are so courteous on American multi-lane roads too, they pull over a lane when you're entering the highway on the on ramp (so we did likewise) and all the huge container-carrying trucks keep right (in the slow lane). Driving to Memphis is pretty much all we did today after taking our time leaving Nashville. Dad had researched a Golf Shop en route so that was our stop along the way.
Where to stay in Memphis : The Peabody Hotel
(For the best rates at the Peabody, visit their listing on Booking.com>>)
Day 4 : Memphis – Visit Graceland and Beale Street
The Peabody Hotel is only two blocks from famous Beale Street, and was ideally located for strolling down and back again without needing a car. It's famous for its ducks living on the roof who come down in the elevator every day and walk on a red carpet to swim in the fountain in the lobby before being returned with pomp and ceremony at 5pm under the flashes of a dozen cameras!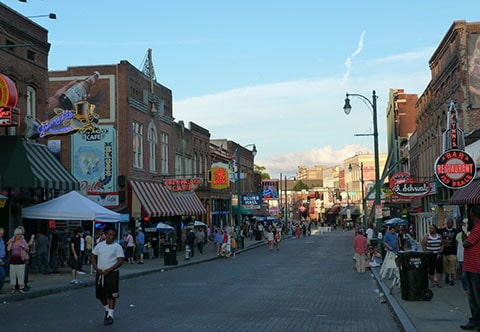 To be honest I didn't like Beale Street much. It was grubby and the cool bars with live music were few and far between. But a highlight was the BB King Cafe where we stayed for dinner and tapped our toes heartily to the band on stage. My husband was here many years ago when BB himself walked in and began jamming with the band. He thought it was normal and only learned later that this happened once or twice a year.
Graceland was cool though and you should allow a good three-plus hours here. Expect to see Elvis lookalikes roaming around the souvenirs and if you have about $3000 you can buy a replica Elvis onesie. On one side of the street are shops and museums all dedicated to the King – and is where you buy your tickets to tour his house. (We didn't pre-book and got on the next tour). Then you'll get on a bus to drive you across the road and up the driveway. About 50 metres. But you know what they're like in America – someone would sue if they got hit crossing the road!
Click here for my photo blog inside Graceland.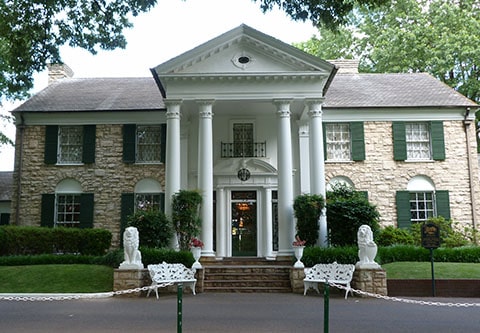 Day 5 : Memphis – Central BBQ and Martin Luther King's memorial
I'd really wanted to try Memphis BBQ so Googled the best places in Memphis and found Central BBQ. Good choice! This store is so popular they now have three of them. I had emailed them from NZ and had a plan to go in Monday morning to meet the manager and learn how to make pork sliders – which you can read by clicking that link).
By now I had my American family who'd dashed out from Delaware for a couple of nights to meet us in Memphis so suddenly we were six who all rocked up and got to sample the most delicious fall-apart pulled pork I've ever had! Then we went back for dinner and tried the rest of the food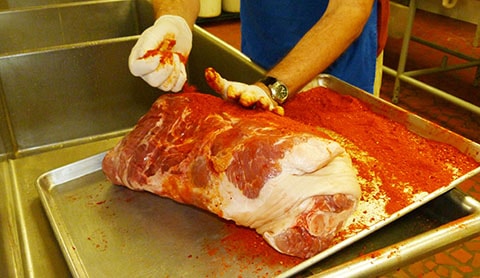 Right across the road from Central BBQ is the infamous Lorraine Motel where Martin Luther King Jnr was shot and killed. It's now a memorial and the motel room has not been touched since the day he was shot down by a guy with a gun in the bathroom of the hostel opposite.
Eerily the bathroom – and building – is now the Martin Luther King Jnr Museum where you can track the time line (and sight-line) of both protagonists until the moment of that fatal shot.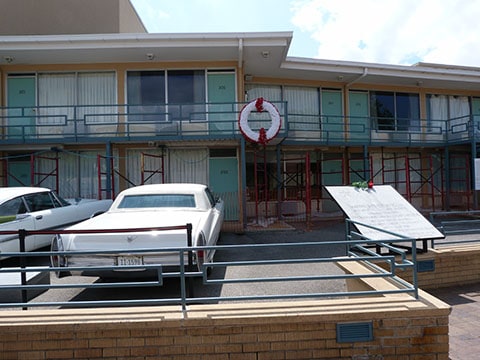 Day 6 : Drive Memphis to New Orleans
Where to stay in New Orleans : French Quarter boutique hotels
It's a good six hours to drive from Memphis to New Orleans (395 miles) so we set off straight after brekky and took a little detour to Vicksburg for lunch because I'd visited a cool gallery (Attic Gallery) here a few years ago. Alas this time they had no art I particularly wanted and it just made a long day longer.
My advice for staying in New Orleans is to stay IN the French Quarter which means you can walk everywhere and pop back when you need some peace or to rest your weary feet.
I've been to New Orleans six times now and have a bunch of posts on where to find music and where to stay too. I love this city for its food, the music is unquestionably the highlight whether they're professional bands in bars and clubs or buskers on the streets. Keep a few dollar notes with you to drop into guitar boxes and buckets around town.
Days 7-10 : New Orleans – Jazz and play time!
There are so many great bars serving live jazz in New Orleans and you'll find all the tourists along Bourbon Street. But for the places where locals go read this post on Frenchmen Street and Preservation Hall.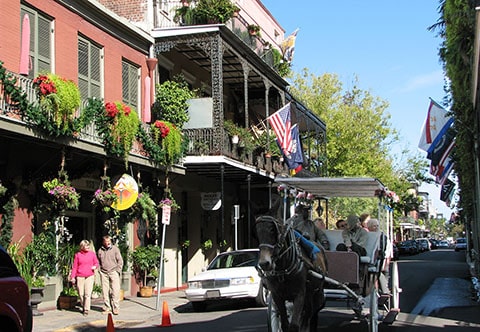 Other things to do in New Orleans include a Cemetery Tour, learn to cook gumbo, eat beignets, buy paintings from artists around Jackson Square and try and find these awesome buskers singing A Closer Walk with Thee on the trombone.
If you love a USA road trip as much as we, jump over this great list of the 55 best small town road trips in America >>
(function(d, sc, u) { var s = d.createElement(sc), p = d.getElementsByTagName(sc)[0]; s.type = 'text/javascript'; s.async = true; s.src = u + '?v=' + (+new Date()); p.parentNode.insertBefore(s,p); })(document, 'script', '//aff.bstatic.com/static/affiliate_base/js/flexiproduct.js');
The post USA music tour: Nashville to Memphis to New Orleans appeared first on Blogger at Large.